With more than 20 years of experience in data center cabling, Kingsignal designs based on the principles of innovation, high reliability and specialization, regards the patented pre-linking KINGSIGNAL optical fiber technology as the core, and it has developed the KINGSIGNAL data center cabling solution for the data center cabling, especially the high-end cloud computing applications. The structured and humanized design philosophy adopted by the solution makes the cabling, installation and maintenance of the professional data center network easy and convenient; the modular product structure increases the product reliability and makes it easier to scale; the high-density product design saves the valuable space; the professional cabling management reduces the e n e r g y consumption of the data center; and the customized service process free users from worries . KINGSIGNAL is data center cabling solution had widely used in finance, Internet, government orgaizations , airport and university. KINGSIGNAL leading the development of data center cabling system.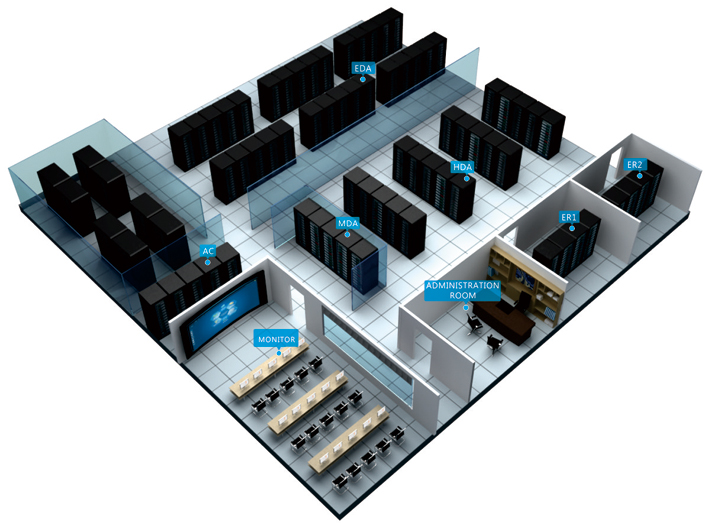 MDA:The main distribution area is the center of the structured cabling system.
HDA : The horizontal distribution areas are used for cabling to equipment, including LAN, SAN, Consoles and KVM switches.
EDA:The equipment distribution area is used for end equipment, including computer systems and communications equipment.
ER : The entrance room is the area used for the interface between the data center structured cabling system and inter-building cabling etc.
Monitor : The support areas are the computer room used for supporting the data center facility.
Administration Room : Working area for staffs.
AC:Air Conditioning for temperature control.