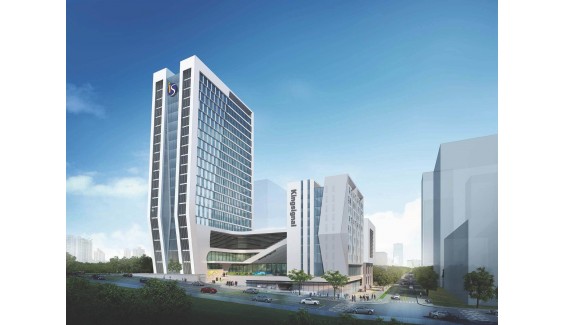 2002 The establishment of Kingsignal

Successfully developed Semiflex series of PTFE cables, broke the monopoly of foreign companies and made the company the core supplier of cable products for domestic antenna manufacturers during the 3G/4G development period. In 2009, the market share exceeded 70%.

2003

The first production line was established and put into operation, and in the same year, it developed semi-soft products, and double its sales turnover.

2004

It was recognized as a high-tech enterprise by Shenzhen Municipal Bureau of Science and Information.

2005

It was recognized as a National Torch Plan Undertaking Unit by Ministry of Science and Technology of the People's Republic of China.

2006 Feeder and jumper production and stabilized phase cables development

Established a feeder and jumper production line and obtained a 35% share of China Mobile in 2010; Invested in equipment and funds to develop GNB/GNS series mechanical stabilized phase cables.

2007 Core client qualification

Became a first-tier supplier of Huawei; became the only "global" supplier of Ericsson in China, established global logistics and provided ground-breaking services for Ericsson.

2008 Breakthrough in RF areas

Became the global supplier of industry's top antenna manufacturers CommScope and Katherein.

2009

The company has established an Engineering Technology Center, which has been selected as Shenzhen Municipal Engineering Technology Center Unit.

2010

The company has conducted shareholding reform, and has passed the certification of the headquarter of one global communication tycoon company, being one of the three global suppliers of antenna.

2011 Successfully listed

Listed on the Shenzhen Stock Exchange; Stock code: 300252.

2012 Intellectual property connectors field

Participated in the drafting of 21 IEC standards and officially promulgated 13 items;Entered the field of connector product design and manufacturing.

2013 Optical access field

Fiber optic cable design and manufacturing; Provided FTTx fixed network access solutions and became a new player in the optical communications industry.

2015 PCB& military-civilian integration

RF PCB design and manufacturing field;Added high-speed line and network cable product lines;Provided one-stop solutions for overseas customers;The first domestic underwater integrated system project with self-raised funds to carry out military-civilian integration;Established Mianyang Kingsignal, a mixed ownership company in Mianyang.

2016 Emerging industry layout

Entered rail transit, new energy vehicles, medical harness, low frequency and power connector design and manufacturing areas;Established a mixed ownership company in Yingkou AVIC Cigna;Established Academician Workstation of Ocean Detection Technology jointly with the Yang Shi'e team of Harbin Institute of Technology.

2017 5G and AIoT transformation

Established the Institute of Connection Technology,5G Technology Research Institute,Optical Communication Technology Institute,EMC Simulation Technology Institute.

2018 Overseas expansion& operation

Established BU in Europe and Central and North America to accelerate the expansion of overseas markets;Cooperated with TH, etc. with full access to AIoT operations.
>
<