Special Type Optical Cable
Special Type Optical Cable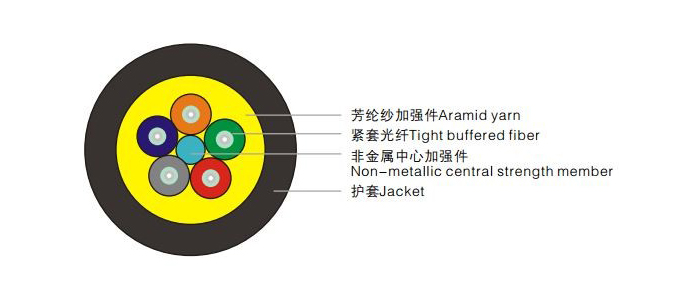 Feature
• Good mechanical and environmental performance.
• Good crush resistance and flexibility.
• High strength, light weight, easy to splice and install.
• Applicable for military, field, severe environment.
• Applicable for temporary cabling and repeated use.
• Jacket material: TPU or other agreed ones.
• Customized design is available.
Technical Parameter
Fiber Count
Cable Size
(mm)
Cable Weight
(kg/km)
Tensile Load
(N)
Crush Load
(N/100mm)
Temperature Range
(℃)
Long-term
Short-term
Long-term
Short-term
2
5.2
24
500
1200
500
1500
-30~+60
4
5.2
26
500
1200
500
1500
6
6
31
500
1200
500
1500
Note: 1. Minimum bend radius: for B1.1, B1.3, B4 single mode fiber and multi-mode fiber, 20D under dynamic bending and 10D
under static bending; for B6 fiber, 10D (dynamic) and 5D (static). (D is overall diameter of round cable)
2. The data of cable size and weight are calculated according to ф0.9 tight buffered fiber.
3. All the data in the table are for reference and subject to change without notification.